Ad blocker interference detected!
Wikia is a free-to-use site that makes money from advertising. We have a modified experience for viewers using ad blockers

Wikia is not accessible if you've made further modifications. Remove the custom ad blocker rule(s) and the page will load as expected.
Retina Ib is a 35mm film folding viewfinder camera made by Kodak AG and produced between 1954-57 with quantity about 161,000 units. [1]
The Retina Ib was introduced at the Photokina 1954. It had the new fast Synchro-Compur shutter with light-value setting mode. That means that several appropriate aperture/shutter-speed settings easily could be found when the actual light value was preset. It lacks a rangefinder. Retina Ib (and the later IB models) are equipped with the sharp Schneider-Kreuznach Xenar 2.8/50 lens. The front element can be removed just as with the IIc/C and IIIc/C models, but the reason for that is that the camera used the same bayonet mount for the front element to simplify production. The Ib/IB can't use the wide angle and tele accessory lenses.[2]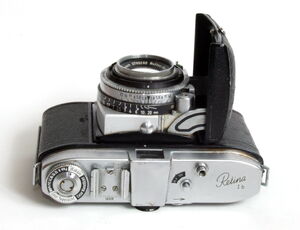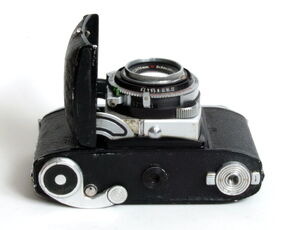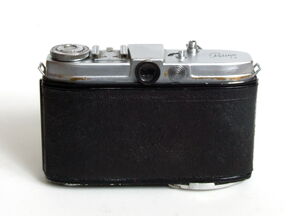 Specifications
Edit
Engraving on the top plate: Retina Ib
Lens: Schneider-Kreuznach Retina-Xenar 50mm f/2.8 filter slip-on

Aperture: up to f/22 setting: coupled with speeds ring according to Exposure Value system, EV 3-18; manual possible with a lever and scale under the lens
Focus range: 0.9-20m +inf

Focusing: manual helicoid focusing, guess the distance, by a thumb handle beneath the lens-shutter barrel, with distance and DOF scales (zone focusing)
Shutter: Synchro-Compur; speeds: 1-1/500 +B setting: ring and scale on the lens-shutter barrel, coupled with apertures according to Exposure Value system
Shutter release: on the top plate w/cable release socket
Cocking lever: also winds the film, short stroke, on the bottom plate
Frame counter: additive type, auto-reset, window on the top plate
Viewfinder: reverse telescopic finder with parallax correction frame
Re-wind lever knob: on the top-plate
Re-wind release: a button adjacent to the winder
Front cover: opens by a small knob on it; closing: press the knobs on the struts, when focus on infinity
Flash PC socket: on the lens-shutter, setting for x and M with a green lever on V X M dial
Cold-shoe
Memory dial: on the rewind knob
Self-timer: set to V on V X M dial
Back cover: hinged, opens by a lever and a small knob beneath the tripod socket
Embossings on front cover Kodak and on the back cover Retina camera
Tripod socket: 1/4"
Strap lugs
Body: metal; Weight: 584g
Notes and references
Edit