Ad blocker interference detected!
Wikia is a free-to-use site that makes money from advertising. We have a modified experience for viewers using ad blockers

Wikia is not accessible if you've made further modifications. Remove the custom ad blocker rule(s) and the page will load as expected.
Kodak Retina Automatic II image by Süleyman Demir (Image rights)
Retina Automatic II is a 35mm film viewfinder camera made by Kodak AG and produced between 1960-63 with quantity of 48.000 units.
It has two versions:
Small lightmeter - Serial number range: 50036 to 91019
Large lightmeter - Serial number range: 150949 to 161446
Specifications
Edit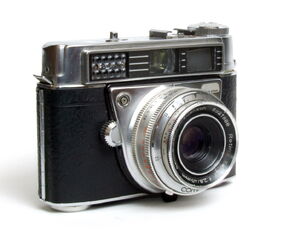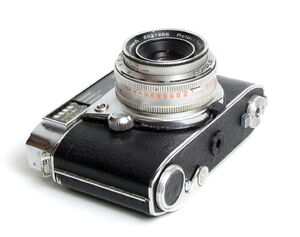 Data belongs to the camera in the photos.
Small lightmeter window version
Engraving on the top plate: Retina Automatic II
Lens: Schneider-Kreuznach Retina Xenar 45mm f/2.8 filter slip-on,

Aperture: up to f/22 setting: Auto (A) or manual (f numbers), ring and scale on the lens-shutter barrel
Focus range: 1-12m +inf

Focusing: manual front cell focusing, ring, distance scale with 1, 2 and 3 dots for portrait, group and landscape and DOF scale on the lens. These dots are indicated in the viewfinder by one, two or three yellow dots which correspond to focussing zones on the lens.
Shutter: Compur leaf shutter, speeds: 1/30-1/500 +B
Shutter release: a lever, on the lens-shutter barrel
Cocking lever: also winds the film, long stroke, on the bottom plate
Frame counter: manual reset, additive type, window on the top-plate, setting:by a knob on the backof the top plate when pressing the small knob beside the counter window
Viewfinder: bright frame finder, with parallax correction lines
Exposure meter: Gossen Coupled Selenium cell meter, Shutter priority auto

Film speed range: ASA 10-1250; Setting: ring and scale on the lens-shutter barrel, ring releases by pressing the small lever on it
Exposure setting: Set the desired speed then set to A on the aperture ring. Check the needle window that the needle must be between the red marks. If not, set new speeds. This needle show the aperture that set automatically. In low light a "Stop" sign comes up in the viewfinder and the shutter is locked.

Full manual overide is also available.
Re-wind knob: on the left of the top plate
Re-wind release: a button on the bottom plate
Flash PC socket: on the front panel
Cold-shoe
Memory dial : on the re-wind knob
Self-timer
Back cover: hinged, opens by a knob with security lever, on the bottom plate
Embossing on the back cover: Kodak Retina Camera
Tripod socket: ¼"
Strap lugs
Body: metal; Weight: 573g
Retina Automatic models [1], [2]
Notes and references
Edit