The No. 2 Hawkette was a Folding Camera using 120 roll film, made by Kodak in 1930. The body is mottled brown Bakelite with art-deco details. Takes eight 6x9cm frames on 120 film. This camera has a very simple lens, with three unlabelled f-stops and a rotary shutter with Time & Instant settings.
The camera was sold only through premium advertising promotions.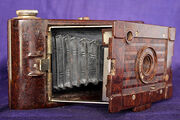 Reference: Coe, Brian, Kodak Cameras, the First Hundred Years, p.115 & p.59, Hove Foto Books, 1988.
Ad blocker interference detected!
Wikia is a free-to-use site that makes money from advertising. We have a modified experience for viewers using ad blockers

Wikia is not accessible if you've made further modifications. Remove the custom ad blocker rule(s) and the page will load as expected.