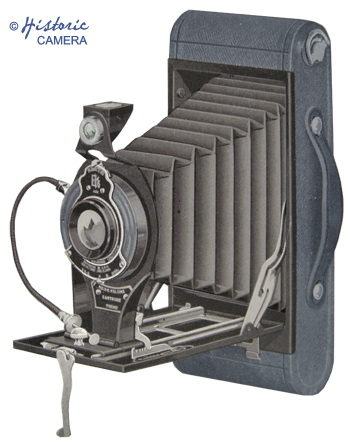 Folding Cartridge Premo No. 2C is a large format folding bed camera manufactured by the Eastman Kodak and produced between 1917-23.
It uses cartridge roll 130 film and takes ten frames. It has achromatic meniscus lens and the Kodak Ball Bearing Shutter with cable release. It was also offered with an optional Rapid Rectilinear lens. It is made by metal for rigidity, with nickel and black enamel finished and a black leather bellows. The body is covered in a high grade black imitation leather. Some other features are a positive lock focus adjustment, waist level brilliant reversible finder and two tripod sockets.
Ad blocker interference detected!
Wikia is a free-to-use site that makes money from advertising. We have a modified experience for viewers using ad blockers

Wikia is not accessible if you've made further modifications. Remove the custom ad blocker rule(s) and the page will load as expected.