The Brownie Hawkeye is a Bakelite camera taking 6x6cm images on 620 film, made in the USA and France by Kodak, between c.1949-1961[1]. There were also examples labelled "Brownie Fiesta". The original design did not have a flash facility, but the Flash model was added in 1950 and labeled Kodak Brownie Flash in France. The canadien model is labeled "Brownie Hawkeye Flash" too. There were two lens attachments sold for the Hawkeye, one was the Kodak Close-Up No. 13 and the other was the Kodak Cloud Filter No. 13.
Manufactured: USA, France, Canada
Manufacturer: Kodak: Eastman Kodak, Rochester, New York, USA, Kodak Pathé, France and Canadian Kodak Co. Limited.
Produced: May 1949-Nov 1951 (non-sync model); Sept 1950-Jul 1961 (Flash model)
Film: 620, 6x6cm images
Viewfinder: Oversized brilliant, waist-level
Flash: Built-in synchronization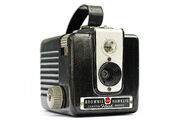 References
Edit
Ad blocker interference detected!
Wikia is a free-to-use site that makes money from advertising. We have a modified experience for viewers using ad blockers

Wikia is not accessible if you've made further modifications. Remove the custom ad blocker rule(s) and the page will load as expected.