The Kodak Bantam is a folding camera using Kodak's 828 film format (35mm film with only 1 perforation per image). It was a very compact camera, designed by the famous Walter Dorwin Teague. The basic model had a 1:12.5 Doublet lens and a single speed shutter. It appeared in 1935, together with another model that had a 1:6.3 lens and a rigid finder. Most Bantams were strut folders, but the F.8 model of 1938 had a rectangular pull-out lens tube instead. The luxurious Bantam Special was launched in 1936, and some other models appeared in 1938. Optical replacement finders were available for the models with rigid or metal frame finder. The Flash Bantam appeared in 1947. The Bantam RF of Arthur H Crapsey was added in 1953, not as new folder but as compact rigid body model for the advanced fan of the 28×40mm frame format. Other simpler rigid body viewfinder cameras followed, the Bantam Colorsnap series.
other models
Edit
The images above show the basic model. Here the other original model of that vintage year, and later models:
| | |
| --- | --- |
| Kodak Bantam Special of 1936 | Kodak Flash Bantam of 1947 |
| Bantam 4.5 of 1938 and Flash Bantam of 1947 | rectangular bakelite tube of 1938's Bantam F.8 |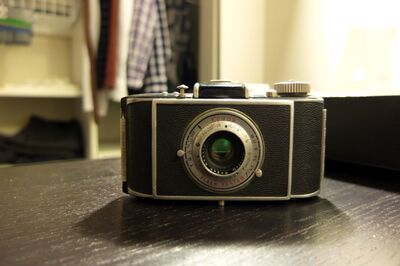 Ad blocker interference detected!
Wikia is a free-to-use site that makes money from advertising. We have a modified experience for viewers using ad blockers

Wikia is not accessible if you've made further modifications. Remove the custom ad blocker rule(s) and the page will load as expected.