Ad blocker interference detected!
Wikia is a free-to-use site that makes money from advertising. We have a modified experience for viewers using ad blockers

Wikia is not accessible if you've made further modifications. Remove the custom ad blocker rule(s) and the page will load as expected.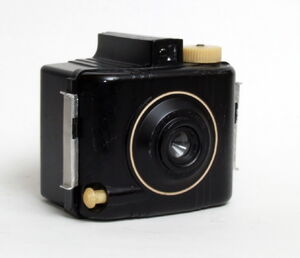 The Kodak Baby Brownie Special is a tiny Bakelite medium format film box camera made by Kodak in Rochester, NY, USA. It was produced between September 1938 and 1954. This was largely a replacement for the Kodak Baby Brownie, adding an optical viewfinder. Images were 4x6.5cm on 127 film.
The body was made in two halves, held together by a sliding latch either side for film loading; the front panel carried the shutter, lens and film transport, the back box just the viewfinder and red window. [1], [2]
Specifications
Edit
Lens: meniscus lens f/11
Focus range: 5 feet to inf
Focusing: fixed focus
Shutter: rotary, one speeds, about 1/40
Cocking and Shutter release: by the same knob, on the left lower part of the front plate
Winding knob: on the right of the top
Viewfinder: reverse telescopic finder, remowable
Flash PC socket: none
Cold-shoe: none
Self-timer: none
Engraving on the back cover: Made in USA by Eastman Kodak Co. Rochester
Tripod socket: none
Hand grip lugs
Body: bakelite; Weight: 180g
Serial no. none
came out in 1939
discontinued in 1954
lens: meniscus
Shutter: rotary
Price range:$30-$60
Notes and references
Edit