Kodak Baby Brownie (US Version)
by jgs4309976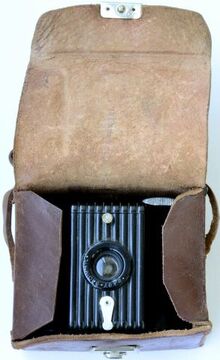 The Baby Brownie is a small, basic camera (art deco style), made of Bakelite with a flip-up frame viewfinder. The shutter is operated by the lever under the lens. Cameras made for export have a "brief/time" button, above the lens. Both of these cameras were made in the USA. The cameras were manufactured from 1934 to 1941 in the USA and from 1948 to 1952 in the UK.
produced between : 1934 - 1952
Kodak Baby Brownie
(Export, with B button)
by ishoothorizon (Image rights)
---
Kodak Baby Brownie
(Export Version with B setting)
by Siim Vahur
Ad blocker interference detected!
Wikia is a free-to-use site that makes money from advertising. We have a modified experience for viewers using ad blockers

Wikia is not accessible if you've made further modifications. Remove the custom ad blocker rule(s) and the page will load as expected.