Ad blocker interference detected!
Wikia is a free-to-use site that makes money from advertising. We have a modified experience for viewers using ad blockers

Wikia is not accessible if you've made further modifications. Remove the custom ad blocker rule(s) and the page will load as expected.
King Regulette (original) (1960) image by Süleyman Demir (Image rights)
King Regulette is a series of 35mm film viewfinder cameras manufactured by Regula-Werk King KG, Bad Liebenzell, Germany, and produced between 1960-c.1965.
Regulette Models
Edit
Models and info are according to McKeown's [1]
Regulette (original)
Edit
Introduced: c.1960
Lens: Cassar or Color-Isconar 45mm f/2.8
Shutter: Pronto, Vario or Vero
Regulette (original) Specifications
Edit
Engraving on the top plate: Regulette
Lens: Steinhall Cassar 45mm f/2.8; Filter slip-on; Aperture: f/2.8-f/16; Focus range: 3.3-25 feet +inf
Focusing: front element focusing, guess the distance
Shutter release: knob on the right side of the lens-shutter barrel
Cocking lever: also winds the film, right back side of the camera
Frame counter: decreasing type, manual reset, window and setting ring on the bottom plate
Viewfinder: bright frames, fairly large and bright
Re-wind knob: on the left of the top plate
Re-wind release: a knob on the bottom plate
Flash PC socket: on the lens-shutter barrel
Cold-shoe
Memory dial: on the re-wind knob
Back cover: hinged, opens by a finger nail notch on the left side of the camera
Tripod socket: 1/4 inch
Engravings on the bottom plate: Made in Germany
Body: metal; Weight:
Serial no.in the back cover
King Regulette (original) (1960) Images by Süleyman Demir (Image rights)
Regulette 125
Edit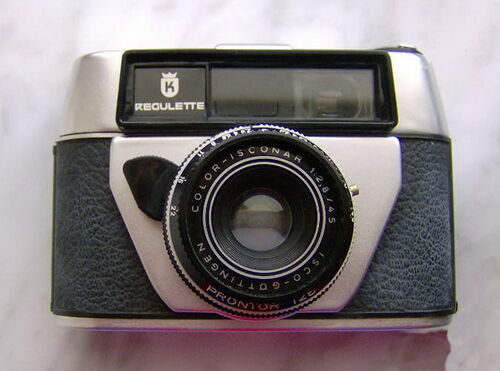 Introduced: 1963
Lens: Color-Isconar 45mm f/2.8
Shutter: Prontor 125
Also known as Alka
Regulette 250SB
Edit
Introduced: 1964
Lens: Color-Isconar 45mm f/2.8
Shutter: Prontor 250 S
Regulette 300SB
Edit
Introduced: 1965
Lens: Cassar or Color-Isconar 45mm f/2.8
Shutter: Prontor 300-S
Also known as Revue 300 BS
Notes and references
Edit
↑ McKeown, James M. and Joan C. McKeown's Price Guide to Antique and Classic Cameras, 12th Edition, 2005-2006. USA, Centennial Photo Service, 2004. ISBN 0-931838-40-1 (hardcover). ISBN 0-931838-41-X (softcover). p.816