Ad blocker interference detected!
Wikia is a free-to-use site that makes money from advertising. We have a modified experience for viewers using ad blockers

Wikia is not accessible if you've made further modifications. Remove the custom ad blocker rule(s) and the page will load as expected.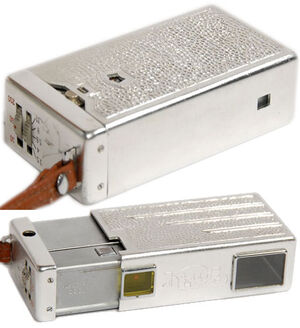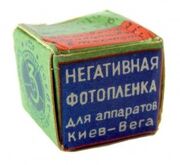 Kiev Vega (Киïв Вега) is a 16mm film subminiature camera made by Arsenal and produced between 1959-62.
There are 3 types one sub-type of the camera. [1]
Early models have "Kiev Vega" engraving on the top. Later models have only "Kiev logo" on the top and "Vega" name engraved on the front.
Some features
Edit
Film: perforated or unperforated 16mm film, frame size 10x14mm
The film is in special one piece cassettes with built-in feed/take-up spools
Lens: Industar-M 23mm f/3.5
Aperture: up to f/22
Shutter speeds: 1/30-1/200
Minox-style "push-pull" cocking and film advance
Viewfinder window and lens opening protected by flat glass plates that serves as interchangable filters as well
Viewing and shutter release are possible only when camera is in extended position
Body: Aluminum
Flash sync connector on the top and frame counter on the bottom (deducting)
Its set includes hand strap, two cassetes, case, mask for photograpic printing, cassete to develop of film, 3 filters, box, manual instruction
Notes and references
Edit
↑ As to Alexander Komarov