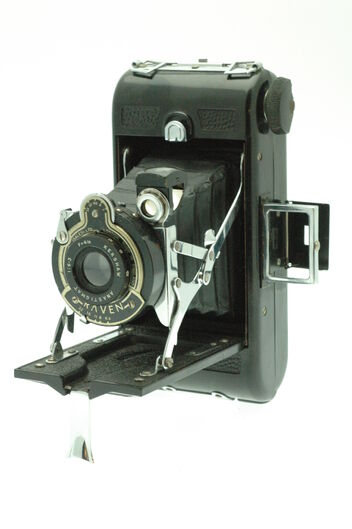 The Kershaw Raven is a black Bakelite folding camera for type No. 120 rollfilm. It was made in England by (or for) Kershaw Soho (Sales) Ltd., c.1947.
The Bakelite front door is part of the bellows' self-erecting mechanism, and is reinforced with a metal plate to mount the folding struts. the door carries a tripod bush and a folding leg; a second tripod bush for landscape format pictures is mounted in side. When unfolded the lens standard position is fixed.
The Raven has a focusable 1:6.3 F=4in Kershaw Anastigmat[1] triplet lens, a self-cocking dial-set shutter with three speeds, 1/25, 1/50, 1/100 plus T and B, aperture stops from f6.3 to f22, a reflecting "brilliant" type finder and a collapsible two-frame finder.
↑

the photos show f6.3, but McKeown lists it as having an f4.5
Ad blocker interference detected!
Wikia is a free-to-use site that makes money from advertising. We have a modified experience for viewers using ad blockers

Wikia is not accessible if you've made further modifications. Remove the custom ad blocker rule(s) and the page will load as expected.