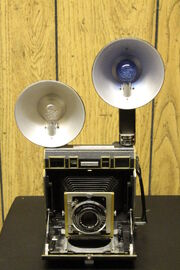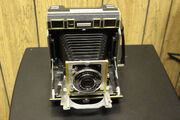 Kalart Company, Inc. Stamford Connecticut
This is a 1948 Rangefinder Folding camera.

Information is only derived from the instruction guide, but is not verbatim. Many control features of the Kalart camera are quite unique. Automatic track lock, is unique. Rangefinder has a luminous view finder a new principle for the time. It has an electric brain that requires knowledgeable users before taking a photo. This is 1948! Duel left eye and right eye rangefinder can only be operated 1 at a time. A switch for each one is next to the eyepiece. There are two hidden buttons which allow the rails to extend further than the bed, they are at the end of the bed body, covered by leather.
Ad blocker interference detected!
Wikia is a free-to-use site that makes money from advertising. We have a modified experience for viewers using ad blockers

Wikia is not accessible if you've made further modifications. Remove the custom ad blocker rule(s) and the page will load as expected.