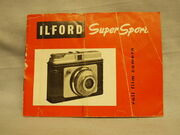 Super Sporti is a medium format roll 120 film viewfinder camera made by Dacora for Ilford from around 1959.
This model is an enhanced version of the Ilford Sporti, with a B setting on the shutter, and three weather symbols: the aperture settings were kept for 'Sunny', 'Light Cloud' (f11 and f9), plus a 'Dull' setting used the same wide-open aperture as 'Light Cloud' but reduced the shutter speed (possibly to 1/25 instead of 1/50). The Super Sporti also added double-exposure prevention.
It is same as the Dacora Color-Digna.
Ad blocker interference detected!
Wikia is a free-to-use site that makes money from advertising. We have a modified experience for viewers using ad blockers

Wikia is not accessible if you've made further modifications. Remove the custom ad blocker rule(s) and the page will load as expected.