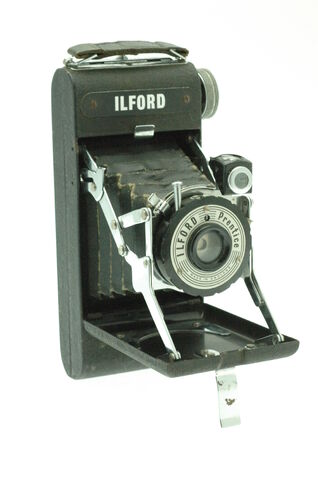 The Ilford Prentice was a folding camera made in the UK by Kershaw-Soho for Ilford. It is very similar to later (plunger shutter-release) models of the Kershaw Eight-20 Penguin, except having a slight bulge in the door, and so not needing the "Set pointer here before closing camera" instuction.
The camera took 8 pictures on 120 film with a negative size of 2 1/4 x 3 1/4 inches, two shutter speeds and two aperture settings, with focusing controlled by a lever on top of the lens
Two shutter speeds, one fixed (Instantaneous) and B
Two aperture settings - F16 and F11
Ad blocker interference detected!
Wikia is a free-to-use site that makes money from advertising. We have a modified experience for viewers using ad blockers

Wikia is not accessible if you've made further modifications. Remove the custom ad blocker rule(s) and the page will load as expected.