IOR (Romanian Optics Industry), is a renowned optical factory in Romania's capital Bucuresti. It was founded in 1936. It produces military optics like its Valdada rifle scopes. During Romania's socialist period the company made its "Orizont" series of viewfinder cameras for 35mm film. The company uses optical glass from Jenaer Glass, Jena, Germany, for its optics. The company is still state-owned and shall be privatized. It produces sportive optics, military equipment, medical apparatus and lenses for eyeglasses.
Orizont, image by vamapaull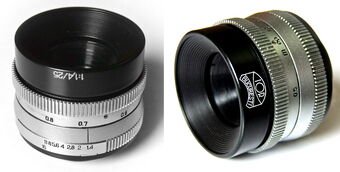 Ad blocker interference detected!
Wikia is a free-to-use site that makes money from advertising. We have a modified experience for viewers using ad blockers

Wikia is not accessible if you've made further modifications. Remove the custom ad blocker rule(s) and the page will load as expected.