Ad blocker interference detected!
Wikia is a free-to-use site that makes money from advertising. We have a modified experience for viewers using ad blockers

Wikia is not accessible if you've made further modifications. Remove the custom ad blocker rule(s) and the page will load as expected.
Helios-44 is a series of standard lenses for SLR cameras, produced in Soviet Union by KMZ, MMZ, Jupiter from 1958 till 1992 (2001?) and it is considered to be one of most mass produced lenses in the world. Based on the lens Biotar 2 / 58 , at the beginning was called "БТК" - "БиоТар Красногорский" (BioTar Krasnogorski). A fast 6-element anastigmat, it was available in both single-coated and multi-coated versions.

The name of Helios lenses are usually writen as Helios-44X-N, where X -is the index of lens mount (M for m42 thread, K for Pentax K bayonet, Д for Zenit-D bayonet) and N is a optical resolution index 2, 3, 4, 5, 6, 7 (the higher number the higher is an optical resolution of lens).
Technical Specifications
Edit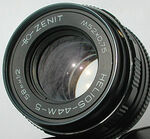 Focal Distance: 58mm (may vary in real)
Optical Formula: 6 elements in 4 groups.
Aperture Range: f/2 - f/16. (f/22 later)
Angle of View: 40°28
Geometric Vignetting: 58%
Minimum Focusing Distance

Helios-44 (Start) - 0.7 m
Helios-44 - 0.5 m
Helios-44-N - 0.5 m
MC Helios-44X-N - 0.5 m

Number of Aperture Blades

Helios-44 (Start) - 13
Helios-44 -8
Helios-44-N -8
MC Helios-44X-N - 6
MC Helios-44M-7 - 6

Filter Diameter:

Helios-44 (Start) - M40.5x0.5
Helios-44 - M49.5x0.75
Helios-44-2 - M49x0.75
Helios-44-7 - M49x0.75
MC Helios-44X-N - M52x0.75
MC Helios-44M-7 -M52x0,75

Lens Mount:

Helios-44 (Start) - Zenit Start Bayonet
Helios-44 - m39 SLR thread
Helios-44-2 - m42 thread
Helios-44-7 - m42 thread (Originaly designed for the cameras line of ZENIT-7, and because of the special aperture drive system can be installed only on these cameras via an adapter - thread-bayonet ring).
MC Helios-44X-N - m42 thread
MC Helios-44M-7 - m42 thread
MC Helios-44K-4 - Pentax K Bayonet

Optical Resolution (center/edge)

Helios-44 - 35/14 lines/mm
Helios-44-2 - 38/20 lines/mm
Helios-44-7 - 36/17 lines/mm
Helios-44M-4 - 38/19 lines/mm

MC Helios-44K-4 - 42/21 lines/mm

MC Helios-44M-4 - 41/20 lines/mm
MC Helios-44M-5 - 41/20 lines/mm
MC Helios-44M-6 - 45/25 lines/mm
MC Helios-44M-7 - 50/30 lines/mm

Transmittance

Helios-44 - 0.81
Helios-44-2 - 0.82
Helios-44-7 - 0.80
Helios-44M-4 - 0.80
MC Helios-44K-4 - 0.85
MC Helios-44M-4 - 0.85
MC Helios-44M-5 - 0.85
MC Helios-44M-6 - 0.90
MC Helios-44M-7 - 0.90

Color Formula

Helios-44 - 10-0-1.5
Helios-44-2 - 10-0-1.5
Helios-44-7- 10-0-1.5
Helios-44M-4 - 10-0-1.5
MC Helios-44K-4 - 11-0-0
MC Helios-44M-4 - 11-0-0
MC Helios-44M-5 - 11-0-0
MC Helios-44M-6 - 11-0-0
MC Helios-44M-7 - 11-0-0

Weight

Helios-44 (Start) - 0.23 kg
Helios-44 - 0.23 kg
Helios-44-2 - 0.23 kg
Helios-44-7 - 0.35 kg

Helios-44M-4 - 0.3 kg
MC Helios-44K-4 - 0.3 kg

MC Helios-44M-4 - 0.3 kg
MC Helios-44M-5 - 0.27 kg
MC Helios-44M-6 - 0.27 kg
MC Helios-44M-7 - 0.27 kg
English

in Russian
http://www.zenitcamera.com An oficial site of KMZ Original descripion and Tech specs.
http://www.photohistory.ru/ Helios 44 on "Stages of development of domestic fotoapparatostroeniya" site