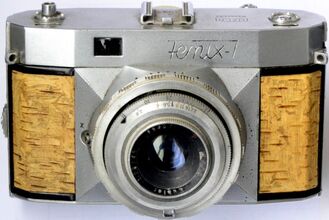 The Fenix camera was developed by a team led by Feliks Sujkowski in 1950-54 at the Centralne Laboratorium Optyczne and manufactured by WZFO. Originally it was to be a SLR, but before manufacturing was redesigned about 1954 as the structure viewfinder camera. Camera name refers to the name of the designer.Fenix was available in four versions, labelled I, Ib, II, IIb. The body and the back wall of the camera were pressurized metal castings. Fenix was equipment with the excellent Euktar lens 45 mm f/2.8 aperture of the values from f/2.8 to f/22 in increments of 1 EV and leaf shutter of a time 1/15, 1/30, 1/60, 1 / 125, 1/250, B with double exposure lock and leaving the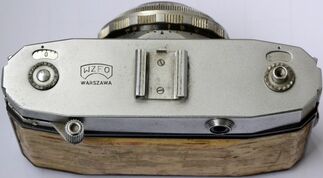 unexposed frame. Fenix had the single stroke lever also with the cocking shutter device and frame counter. Versions I and Ib have X-sync and 0.8x magnification viewfinder, while the version in the viewfinder Ib was visible frame of photo size. Fenix II and IIb have built-in both the viewfinder and rangefinder coupled to the lens. He also had a sled to attach the flash. The camera is beautifully presented, but the biggest problem was often breaking the wire of cocking shutter.
Ad blocker interference detected!
Wikia is a free-to-use site that makes money from advertising. We have a modified experience for viewers using ad blockers

Wikia is not accessible if you've made further modifications. Remove the custom ad blocker rule(s) and the page will load as expected.