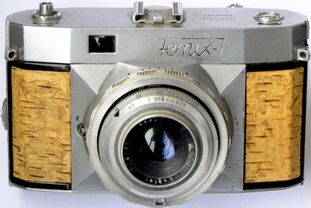 The Fenix-II was a rangefinder camera made by WZFO. In 1950 the development of its predecessor Fenix began in the Centralne Laboratorium Optyczne. It had its viewfinder ocular placed in the upper camera back, in the middle between the positions of the two equal-sized rangefinder windows in the opposite camera frontside.
specifications
Edit
Ad blocker interference detected!
Wikia is a free-to-use site that makes money from advertising. We have a modified experience for viewers using ad blockers

Wikia is not accessible if you've made further modifications. Remove the custom ad blocker rule(s) and the page will load as expected.