Ad blocker interference detected!
Wikia is a free-to-use site that makes money from advertising. We have a modified experience for viewers using ad blockers

Wikia is not accessible if you've made further modifications. Remove the custom ad blocker rule(s) and the page will load as expected.
Felicetta BL 35 is a 35mm film viewfinder camera manufactured by Vredeborch GmbH, Nordenham, Germany and produced in mid-1960s.
The Felinette/Felicette/Felicetta series were 35mm film viewfinder cameras made by Vredeborch, introduced in 1959. Felinette name was changed in 1960 as Felicette, and renamed again as Felicetta in 1965.
Specifications
Edit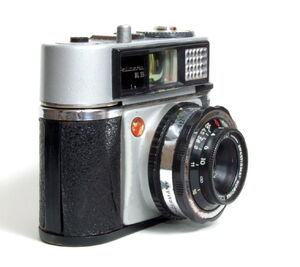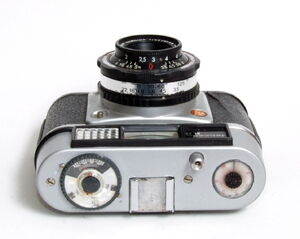 Lens: Nordinar 45mm f/3,5 filter thread: 44mm

Aperture: f/3,5 – f/22
Focus range: 1.2-10m +inf

Focusing: manual, guess the distance
Shutter: central leaf shutter; speeds: 1/30-1/60-1/125 +B
Shutter release: on the top plate, w/ cable release socket, double exposure prevention
Cocking lever: also winds the film, long stroke
Frame counter: window on the top plate, manual reset, not works wo/ film in the camera
Viewfinder: reverse telescopic finder, with bright frame lines
Exposure meter: uncoupled Selenium cell exposure meter
Film speed range: (?); setting: dial on the top plate
Exposure setting: readout window in the ASA setting dial, needle shows the required aperture
Re-wind: by a thumb wheel on the left of the camera
Re-wind release: on the back of the top plate, small black knob
Flash PC socket: two, on the front plate, for X and M
Cold-shoe
Back cover: removable with the bottom plate, opens by a sliding knob on the bottom plate
Film loading: take up spool is special, takes the film into the drum
Tripod socket: ¼"
Strap lugs
Body: light metal; Weight: 387g
Serial no. in the camera