FED Mikron (ФЭД Микрон) is a 35mm film half-frame viewfinder camera made by FED in the USSR and produced between 1967-85 with quantity of 110.000 units.
It is also known as FED-30. This camera is nearly identical to the Konica EYE half-frame camera of the same period.
It had fully automatic exposure controlled by a selenium meter around the lens. The lens was a Helios-89 30mm/f1.9. Later models have a removable back and a silk-screened ФЭД Микрон on the front; earliest models have engraved ФЭД on the top plate and Микрон on the front and a hinged back. There are intermediate models that have ФЭД Микрон engraved on the front and a hinged back.
FED Mikron type 5a c.1980 image by Süleyman Demir (Image rights)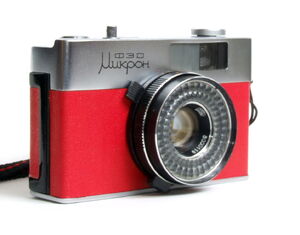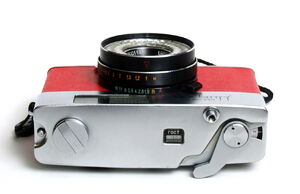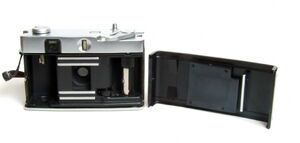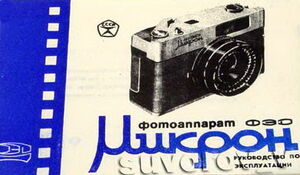 Specifications
Edit
Data belongs to the type 5a in the photos.
The normal covering of the camera is black, but this camera has been recovered in red.
Lens: Helios-89 30mm f/1.9; filter thread 46mm
Aperture: up to f/16
Setting: fully auto-exposure; on the camera you never know what f-stop gets set; for manual flash use the ring and scale on the lens
Focus range: 1-10m + inf
Focusing: manual, ring and scale on the lens, ring clicks on the portrait, three-quarter portrait, group and landscape distances, their symbols visible in the finder, w/ handle for easy using
Shutter: leaf shutter, speeds: 1/30-1/800, speeds visible in the finder
Setting : Auto and B (f/1.9 and 1/30); fully auto-exposure; At 1/30 the f-stop is f1.9; at 1/800 the f-stop is f16. In manual mode for flash use, the apertures can be set manually with a 1/30 shutter.
Shutter release: on the top plate, w/ cable release socket
Cocking lever: also winds the film, short stroke, on the top plate
Frame counter: auto-reset, additive type, window on the top plate, not works wo/ the film in the camera
Viewfinder: bright frame finder, parallax correction frames, symbols of portrait, three-quarter portrait, group and landscape visible in the finder with index mark moves when turning the focus ring
Exposure meter: Selenium cell meter around the lens, fully automatic speed and aperture controlled, sets the shutter speed and the f-stop in a programmed exposure mode.
Film speed range: 16-250 GOST (approximately ISO 18-300); setting: by a thumb wheel on the back of the top plate, window on the top plate
Exposure setting: set the aperture ring to Auto (A), press the shutter relase (before cocking) and check the speed in the finder by index mark , if light conditions is not appropriate a red flag occurs on the speed scale, in this case the shutter not works,
Re-wind lever: folding crank, on the top plate
Re-wind release: button on the bottom plate
Flash PC socket: on front of the camera
Cold-shoe: none
Self-timer: none
Back cover: removable, opens by a small button beside the rewind lever
Tripod socket: ¼"
Hand strap lug
Body: metal; Weight: 445g
Serial no. on the lens
Notes and references
Edit
↑ Mikron series: FED-35, FED-35A, FED-50, FED Boy Stereo, FED Mikron, FED Mikron-2, FED Stereo, FED Stereo-M (As to Alexander Komarov [1])
↑ As to Alexander Komarov