Ad blocker interference detected!
Wikia is a free-to-use site that makes money from advertising. We have a modified experience for viewers using ad blockers

Wikia is not accessible if you've made further modifications. Remove the custom ad blocker rule(s) and the page will load as expected.
Ernemann Heag XVI is a large format folding bed plate camera manufactured by Ernemann and produced between 1909-c.1918.
The 1913-14 Ernemann catalog claims this camera combines the advantages of the Heag XII and Bob II cameras. It have interchangeable magazine that can take roll-film or plates. This is one of the few cameras that have their film and plate to lie in the same focusing position which is not always the case with combination cameras. [1]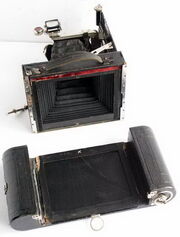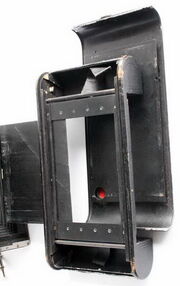 Specifications
Edit
Combination camera
Format: 9x12cm plate, 8.5 x 10.5cm roll film
Lenses:

Ernemann Detektiv Aplanat 1:6.8/135 mm
Ernemann Doppel-Anastigmat Vilar 1:6.8/135 mm
Ernemann Anastigmat Ernar 1:6.3/135 mm
Ernemann Doppel-Anastigmat 1:6/135 mm
Ernemann Doppel-Anastigmat Ernon 1:6.8/135 mm
Ernemann Doppel-Anastigmat 1:5.4/135 mm
Goerz-Dagor 1:6.8/135 mm
Zeiss-Tessar 1:6.8/135 mm

Shutter: Erneman 1-1/100 +T&B
Viewfinder: Brilliant finder
Focusing: by rack & pinion
Front shift: horizontal & vertical
Dimensions & weight:

with interchangeable magazine: 27 cm extended; 4x11.5x23 cm; 1.150 kg
without interchangeable magazine (plates only): 27 cm extended; 3.5x11.5x15 cm; 0.800 kg
Notes and references
Edit
↑ McKeown, James M. and Joan C. McKeown's Price Guide to Antique and Classic Cameras, 12th Edition, 2005-2006. USA, Centennial Photo Service, 2004. ISBN 0-931838-40-1 (hardcover). ISBN 0-931838-41-X (softcover). p.278