Ad blocker interference detected!
Wikia is a free-to-use site that makes money from advertising. We have a modified experience for viewers using ad blockers

Wikia is not accessible if you've made further modifications. Remove the custom ad blocker rule(s) and the page will load as expected.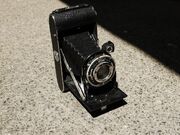 The
Ensign Selfix 420
was a
folding
camera sold by
Ensign
from 1946. It was fitted with an Ensar Anastigmat lens and took
120 film
with the ability to expose either eight 6×9 or twelve 6×6 frames with the optional application of a mask. It is very similar to the
Selfix 20
which it succeeded.
The Selfix 420 is not a rare camera but it is much less common than many better known folders.
Features
Edit
Camera type: Pocket folding with viewfinder
Shutter speeds: T, B, 1/150s, 1/100s, 1/50s, 1/25s, 1/10s, 1/5s, 1/2s, 1s
Lens: Ensar Anastigmat 105mm or 100mm (uncommon), f4.5
Lens aperture range: f/4.5-f/22 in 6 discrete stops
Lens focusing range: 3.5 feet, infinity
Viewfinder: lens-mounted brilliant finder and folding glassless eye finder upon top-plate
Film size: 120 roll medium format
Negative size: 6×9cm; 8 exposures per roll, 6×6; 12 exposures per roll