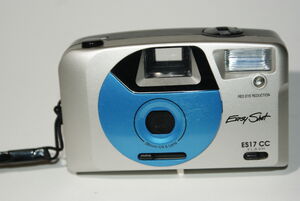 A simple and very basic 35mm film camera with a very large viewfinder and a built in electronic flash and red-eye reduction LED. Made in China for Keystone.
Specifications:
Lens: 28mm f/9.5 (built in lens cover also shuts flash off when closed)
Shutter Speed: Non-adjustable
Flash: Built-in (on off switch on camera front)
Basic Operation:
To the load the film, open the back of the camera by pushing up on the back release button. Extend the rewind lever and pull up until the film canister holder clears the film canister chamber.
second section of your page here.
Ad blocker interference detected!
Wikia is a free-to-use site that makes money from advertising. We have a modified experience for viewers using ad blockers

Wikia is not accessible if you've made further modifications. Remove the custom ad blocker rule(s) and the page will load as expected.