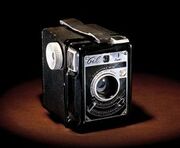 1938 – Photo hunting with Gil
The dream of having a camera, which could
shoot in series, never died. In 1938, this
dream became reality with the first Durst
Camera Gil. It was a box camera with a
6 x 9 cm format for rolls. Thanks to the
double exposure prevention and the curved
lens, the camera produced a much better
picture quality than the other cameras
in the same price range. Since cameras
required extremely high tuning and
precision, Durst soon set up a separate
department for camera production.