Ad blocker interference detected!
Wikia is a free-to-use site that makes money from advertising. We have a modified experience for viewers using ad blockers

Wikia is not accessible if you've made further modifications. Remove the custom ad blocker rule(s) and the page will load as expected.
Druh Syncro is a medium format film viewfinder-like box camera made by WZFO (Warsaw Photo-optical Works = Warszawskie Zakłady Fotooptyczne), Brzozów, Poland and produced between c. 1956–60. Druh means Friend.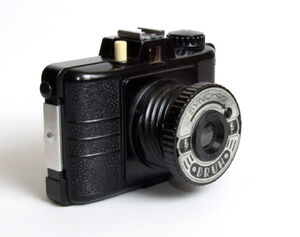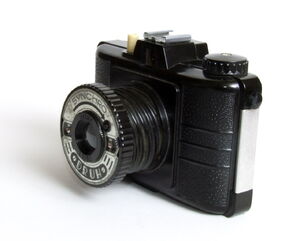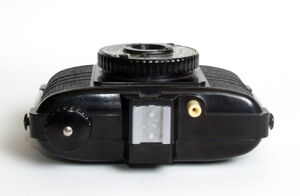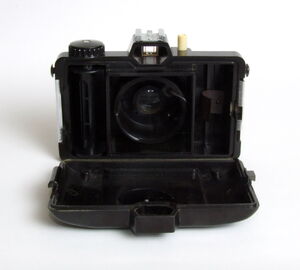 Druh wasn't an original Polish construction. It was a direct descendant of the Pouva Start, WZFO redesigned and more similar to the Yunkor from KMZ. Druh cameras had several finishes in their production time. Druh Synchro is a modernized version of Druh with accessory shoe and pc socket for a flash gun connection. There are also some cosmetic variations.[1]
Specifications
Edit
WZFO logo on the cold shoe
Film 120 roll, picture size 6×6 cm, and 4.5×6 cm with a mask
Lens: Bilar 65 mm f/1.8 periscope collapsible screw tube, filter thread
Aperture: f/8 and f/16; setting: by a lever on front of the lens
Focusing: fixed focus
Shutter: simple spring rotary shutter, one speed 1/50 +B ; setting: by a lever on front of the lens, B and M (instant) , with synchro contact
Cocking and Shutter release: by the same knob, press and release; on the top plate, with cable release socket
Viewfinder: Optical reverse telescopic finder
Winding knob: on the top plate
Flash PC socket: on front of the lens-shutter barrel
Cold-shoe
Self-timer: none
Back cover: removable, opens by a latch on the right side of the camera, with two red windows for 6×6 and 4.5×6
Tripod socket: 3/8"
Strap knobs
Body: bakelite; weight: 313 g
Notes and references
Edit