Ad blocker interference detected!
Wikia is a free-to-use site that makes money from advertising. We have a modified experience for viewers using ad blockers

Wikia is not accessible if you've made further modifications. Remove the custom ad blocker rule(s) and the page will load as expected.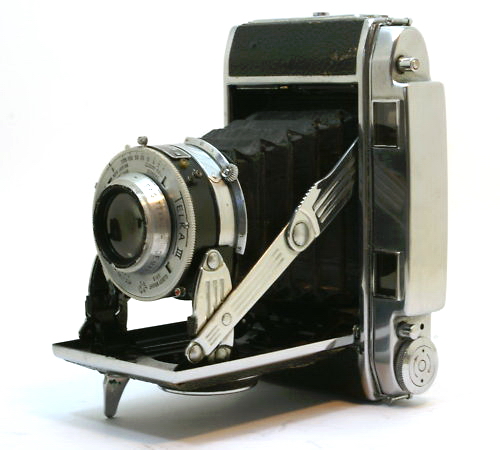 Telka III is a medium format folding rangefinder camera manufactured by DeMaria-Lapierre Paris, France and introduced in c.1948 with less than 10.000 units.
Telka III is the first of the Telka series. Telka brand was created to replace the old design Dehel. Telka III is a rare camera nowadays. There are a few versions. The camera with black trim shutter is the earlier version.
Specifications
Edit
Format: 120 roll film, 6x9cm

It is possible to use 120, 620 and 828 films.

Lens: Demaria Lapierre-Sagittar 95mm f/3.5 (4 elements)
Aperture f/3.5-f/32
Shutter: Prontor-S, speeds: 1-1/250 +B

Versions with Prontor-II and Prontor-SVS (max.speed 1/300) are also exist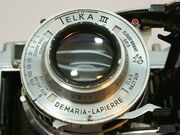 Exposure setting aid: (called "Autocal" in French)

This is the camera's special exposure setting aid (a kind of exposure table) synchronised with the shutter. It's not coupled to aperture setting.
The lens front is masked. This mask has four windows, named in French: gris = grey, sombre = dark, brillant = brilliant, and clair = clear for the light conditions. One or more of the windows show an aperture setting suggestion, the other window(s) the non = not. eg. when the speed setting is 1/25, the aperture numbers appear in windows as Bright = 11, clear = 8, gray = 6.3, dark= not
Version with bilingual (English/French) Autocal is also exist

Focusing: helical, match the rangefinder images; focus range: 1.5-10m +inf
Double exposure prevention
Self-timer.
Flash sync.
Viewfinder: coupled vievfinder/rangefinder
Weight 908g