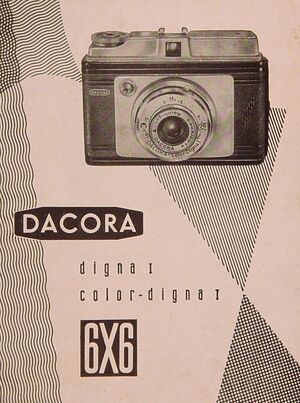 Color-Digna I is a medium format viewfinder camera made by Dacora and introduced in 1957.
It looks similar to Dacora Digna I, but three weather symbols. [1]
Film: 120 roll, picture size 6x6cm
Lens: Achromat 80mm f/8 (or Aanastigmat f/4.5)
There are various lens/shutter combinations
Manual focus, 1.5m-inf, in three steps
Cold shoe
Flash PC socket: on the shutter
It was also sold as Ilford Super Sporti.
Notes and references
Edit
Ad blocker interference detected!
Wikia is a free-to-use site that makes money from advertising. We have a modified experience for viewers using ad blockers

Wikia is not accessible if you've made further modifications. Remove the custom ad blocker rule(s) and the page will load as expected.