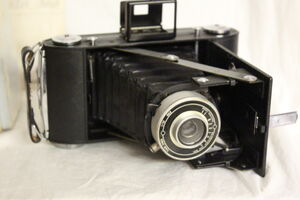 Cruiser Camera Company address 4747 Bronx Boulevard, New York, N.Y., USA created a camera line called the Cruiser, The advertisement in the instructions booklet to a Cruiser 11 claims that it spent 5 years researching this collapsible camera line at a cost of million dollars. It only takes 8 pictures on a standard 21/4 x 3 1/4 inches on Standard 120 Film.
Section heading
Edit
Cruiser 11 Featuring the state of the art or features that were only available in the most expensive cameras of the time. Rugged light weight aluminum die cast body. with this camera you can use a flash, has body shutter release, automatic lens erecting system and self aligning spool holders. Camera may be loaded and unloaded in daylight. Has simple shutter of 2 setting Bulb and 1/50 speed.
Section heading
Edit
Crusier 11 has a sophisticated look with a unique band of black bars on the arm, given the art deco environment of the New York area where it was sold.
Write the second section of your page here.
Ad blocker interference detected!
Wikia is a free-to-use site that makes money from advertising. We have a modified experience for viewers using ad blockers

Wikia is not accessible if you've made further modifications. Remove the custom ad blocker rule(s) and the page will load as expected.