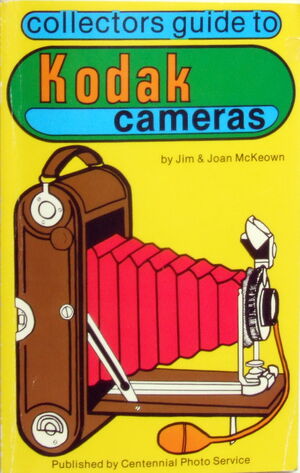 Collectors Guide to Kodak Cameras is a comprehensive reference book about Kodak film cameras written by James McKeown & Joan McKeown and published in 1981.
The authors' most famous book is McKeown's
It includes detailed classification, photos, characteristics, history and a brief review of all Kodak cameras that produced before 1981. Obviously the book is a guide for old camera collectors.
The book is a paperback, published by Centennial Photo Service, Grantsburg, Wisconsin 54840 USA in 1981.
Library of Congress 81-71277 and ISBN 0-932838-02-9. Original price was $12.95.
Ad blocker interference detected!
Wikia is a free-to-use site that makes money from advertising. We have a modified experience for viewers using ad blockers

Wikia is not accessible if you've made further modifications. Remove the custom ad blocker rule(s) and the page will load as expected.