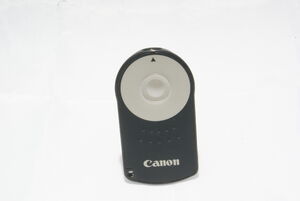 The Canon RC-5 remote controller lets you take pictures away from the camera. Compared with the self-timer function, the remote controller gives you more time before shooting. It is also useful to minimize camera shake when taking pictures such as night scenes or close-ups when the camera is mounted on a tripod or other support. Remote controller RC-5 can be used with cameras compatible with remote control shooting function.
SpecificationsEdit
Type: Consists of infrared signal transmitter
Channel mode: Two-second delay release
Transmission: By transmit button
Operating range: Approx. 5m/16.4ft.
Battery: One lithium CR2032
Dimensions: (W H D) 64 X 34 x 6mm; 2.5 X 1.3 X 0.2in.
Weight: 8.1g/0.28oz. (without battery)
Compatible camerasEdit
Ad blocker interference detected!
Wikia is a free-to-use site that makes money from advertising. We have a modified experience for viewers using ad blockers

Wikia is not accessible if you've made further modifications. Remove the custom ad blocker rule(s) and the page will load as expected.