Ad blocker interference detected!
Wikia is a free-to-use site that makes money from advertising. We have a modified experience for viewers using ad blockers

Wikia is not accessible if you've made further modifications. Remove the custom ad blocker rule(s) and the page will load as expected.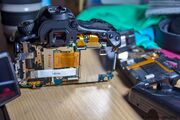 Media:Example.ogg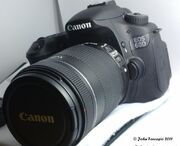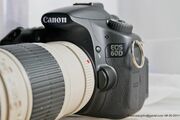 Canon EOS 60D is a digital SLR camera, manufactured by Canon and inroduced in 2010.
Designed to realize your perfect shot, the 60D's pairing of two state-of-the-art sensor and image processor allows it to capture action at a slick 5.3fps while the shutter speed range of 1/8000 sec ensures that nothing escapes your vision.
The EOS 60D support high-capacity SDXC memory cards, providing up to 2TB of available space, allowing photographers to keep shooting HD video and full resolution RAW and JPEG stills without changing cards. For better management of larger image libraries on the camera, EOS 60D photographers can add a rating of 1 to 5 to their favourite images, allowing them to be easily located and viewed on-screen. Once transferred from the camera to a PC, the tags can also be viewed using a number of image editing and management programs, including Canon's DPP software.
18.0 megapixel APS-C size CMOS sensor
3-inch wide Vari-Angle LCD
In-camera post processing
Specifications for EOS 60D (Body)
Edit
Type
Type
Digital, single-lens reflex, AF / AE camera with built-in flash
Recording media
SD memory card, SDHC memory card, SDXC memory card
Image sensor size
22.3 x 14.9mm
Compatible lenses
Canon EF lenses (including EF-S lenses)

(35mm-equivalent focal length is approx. 1.6 times the lens focal length)

Lens mount
Canon EF mount
Image Sensor
Type
CMOS sensor
Effective pixels
Approx. 18.00 megapixels
Aspect ratio
3:2
Dust delete feature
Auto, Manual, Dust Delete Data appending
Recording System
Recording format
Design rule for Camera File System 2.0
Image type
JPEG, RAW (14-bit Canon original)

RAW + JPEG simultaneous recording possible

Recorded pixels
Large:
Approx. 17.90 megapixels (5184 x 3456)
Medium:
Approx. 8.00 megapixels (3456 x 2304)
S1 (Small 1):
Approx. 4.50 megapixels (2592 x 1728)
S2 (Small 2):
Approx. 2.50 megapixels (1920 x 1280)
S3 (Small 3):
Approx. 350,000 pixels (720 x 480)
RAW:
Approx. 17.90 megapixels (5184 x 3456)
M-RAW:
Approx. 10.10 megapixels (3888 x 2592)
S-RAW:
Approx. 4.50 megapixels (2592 x 1728)
Create / Select a folder
Possible
Image Processing
Picture style
Standard, Portrait, Landscape, Neutral, Faithful, Monochrome, User Def. 1 - 3
Basic+
Shoot by ambience selection, Shoot by lighting or scene type
White balance
Auto, Preset (Daylight, Shade, Cloudy, Tungsten light, White fluorescent light, Flash), Custom, Colour temperature setting (Approx. 2500 - 10000K),

white balance correction, and white balance bracketing possible

Colour temperature information transmission enabled.

Noise reduction
Applicable to long exposures and high ISO speed shots
Automatic image brightness correction
Auto Lighting Optimizer
Highlight tone priority
Provided
Lens peripheral illumination correction
Provided
Viewfinder
Type
Eye-level pentaprism
Coverage
Vertical / Horizontal approx. 96%

(with Eye point approx. 22mm)

Magnification
Approx. 0.95x (-1m-1 with 50mm lens at infinity)
Eye point
Approx. 22mm (From eyepiece lens center at -1m-1)
Built-in dioptric adjustment
-3.0 - +1.0m-1 diopter
Focusing screen
Interchangeable (Two types sold separately), Ef-A provided
Electronic level
Horizontal level displayed up to ±9° in ±1° increments

(For horizontal shooting only)

Mirror
Quick-return type
Depth-of-field preview
Provided
Autofocus
Type
TTL secondary image-registration, phase detection
AF points
9 (All cross-type)
Metering range
EV -0.5 - 18 (at 23°C / 73°F, ISO 100)
Focusing modes
One-Shot AF, AI Servo AF, AI Focus AF, Manual focusing (MF)
AF-assist beam
Small series of flashes fired by built-in flash
Exposure Control
Metering modes
63-zone TTL full aperture metering

• Evaluative metering (linked to all AF points) • Partial metering (Approx. 6.5% of viewfinder at center) • Spot metering (Approx. 2.8% of viewfinder at center) • Center-weighted average metering

Metering range
EV 0 - 20 (at 23°C / 73°F with EF50mm f/1.4 USM lens, ISO 100)
Exposure control
Program AE (Full Auto, Flash Off, Creative Auto, Portrait, Landscape, Close-up, Sports, Night Portrait, Program), shutter-priority AE, aperture-priority AE, manual exposure, bulb exposure
ISO speed

(Recommended exposure index)

Basic Zone modes:
ISO 100 - 3200 set automatically
Creative Zone modes:
ISO 100 - 6400 set manually

(1/3-stop increments), ISO 100 - 6400 set automatically, or ISO expansion to "H" (equivalent to ISO 12800)

Exposure compensation
Manual:
±5 stops in 1/3- or 1/2-stop increments
AEB:
±3 stops in 1/3- or 1/2-stop increments

(Can be combined with manual exposure compensation)

AE lock
Auto:
Applied in One-Shot AF mode with evaluative metering when focus is achieved
Manual:
By AE lock button
Shutter
Type
Electronically-controlled, focal-plane shutter
Shutter speeds
1/8000sec. to 1/60sec. (Full Auto mode),

Flash X-sync at maximum 1/250sec. 1/8000sec. to 30secs., bulb (Total shutter speed range. Available range varies by shooting mode.)

Flash
Built-in flash
Retractable, auto pop-up flash
Guide No.:
Approx. 13 / 43 (ISO 100, in meters / feet)
Flash coverage:
Approx. 17mm lens angle of view
Recycling time approx. 3secs.

Wireless master unit function provided

External flash
EX-series Speedlite (Flash functions settable with the camera)
Flash metering
E-TTL II autoflash
Flash exposure compensation
±3 stops in 1/3- or 1/2-stop increments
FE lock
Provided
PC terminal
None
Drive System
Drive modes
Single, High-speed continuous, Low-speed continuous, 10-sec. self-timer / remote control, 2-sec. self-timer / remote control
Continuous shooting speed
Max. approx. 5.3shots/sec.
Max. burst
JPEG Large / Fine:
Approx. 58 shots
RAW:
Approx. 16 shots
RAW + JPEG Large / Fine:
Approx. 7 shots
* Figures are based on Canon's testing standards (ISO 100 and Standard Picture Style) and a 4GB card.
Live View Shooting
Aspect ratio settings
3:2, 4:3, 16:9, 1:1
Focusing
Live mode, Face detection Live mode (Contrast detection)

Quick mode (Phase-difference detection) Manual focusing (Approx. 5x / 10x magnification possible)

Metering modes
Evaluative metering with the image sensor
Metering range
EV 0 - 20 (at 23°C / 73°F with EF50mm f/1.4 USM lens, ISO 100)
Silent shooting
Provided (Mode 1 and 2)
Grid display
Two types
Movie Shooting
Movie compression
MPEG-4 AVC / H. 264

Variable (average) bit rate

Audio recording format
Linear PCM
Recording format
MOV
Recording size and frame rate
1920 x 1080 (Full HD):
30p / 25p / 24p
1280 x 720 (HD):
60p / 50p
640 x 480 (SD):
60p / 50p
Crop 640 x 480 (SD):
60p / 50p
* 30p: 29.97fps, 25p: 25.00fps, 24p: 23.976fps,

60p: 59.94fps, 50p: 50.00fps

File size
1920 x 1080 (30p / 25p / 24p):
Approx. 330MB/min.
1280 x 720 (60p / 50p):
Approx. 330MB/min.
640 x 480 (60p / 50p):
Approx. 165MB/min.
Crop 640 x 480 (60p / 50p):
Approx. 165MB/min.
Focusing
Same as focusing with Live View shooting
Metering modes
Center-weighted average and evaluative metering with the image sensor




Automatically set by the focusing mode.

Metering range
EV 0 - 20 (at 23°C / 73°F with EF50mm f/1.4 USM lens, ISO 100)
Exposure control
Program AE (exposure compensation possible) for movies, manual exposure
Exposure compensation
±3 stops in 1/3-stop increments (Still photos: ±5 stops)
ISO speed

(Recommended exposure index)

Automatically set within ISO 100 - 6400

With manual exposure, ISO 100 - 6400 set automatically / manually

Sound recording
Built-in monaural microphone

External stereo microphone terminal provided Sound recording level adjustable, wind filter provided

Grid display
Two types
LCD Monitor
Type
TFT colour, liquid-crystal monitor
Monitor size and dots
Wide, 3.0-in. (3:2) with approx. 1.04 million dots
Coverage
Approx.100%
Angle adjustment
Possible
Brightness adjustment
Manual (7 levels)
Electronic level
Horizontal level displayed in 1° increments
Interface languages
25
Image Playback
Image display formats
Single image, Single image + Info (Basic info, detailed info, histogram),

4-image index, 9-image index, image rotate possible

Zoom magnification
Approx. 1.5x - 10x
Image browsing methods
Single image, jump by 10 or 100 images, by shooting date, by folder,

by movie, by stills, by rating

Highlight alert
Overexposed highlights blink
Slide show
All images, by date, by folder, movies, stills, or by rating

Three transition effects selectable

Movie playback
Enabled (LCD monitor, video / audio OUT, HDMI OUT)

Built-in speaker

Post-Processing of Images
In-camera RAW image processing
Brightness adjustment, white balance, Picture Style, Auto Lighting Optimizer, noise reduction at high ISO speeds, JPEG recording quality, colour space, peripheral illumination correction, distortion correction, and chromatic aberration correction
Creative filters
Grainy B&W, Soft focus, Toy camera effect, Miniature effect
Resize
Possible
Ratings
Provided
Direct Printing
Compatible printers
PictBridge-compatible printers
Printable images
JPEG and RAW images
Print ordering
DPOF Version 1.1 compatible
Custom Functions
Custom functions
20
Camera user settings
Register under Mode Dial's C
My Menu registration
Possible
Copyright information
Entry and inclusion enabled
Interface
Audio / Video OUT / Digital terminal
Analog video (Compatible with NTSC / PAL) / stereo audio output for personal computer communication and direct printing (Hi-Speed USB equivalent)
HDMI mini OUT terminal
Type C (Auto switching of resolution), CEC-compatible
External microphone IN terminal
3.5mm dia. stereo mini-jack
Remote control terminal
For Remote Switch RS-60E3
Wireless remote control
Remote Controller RC-6
Power
Battery
Battery Pack LP-E6 (Quantity 1)




AC power can be supplied via AC Adapter Kit ACK-E6
With Battery Grip BG-E9 attached, size-AA / LR6 batteries can be used

Battery information
Remaining capacity, Shutter count, and Recharge performance displayed
Battery life

(Based on CIPA testing standards)

With viewfinder shooting:
Approx. 1100 shots at 23°C / 73°F,

approx. 1000 shots at 0°C / 32°F

With Live View shooting:
Approx. 320 shots at 23°C / 73°F,

approx. 280 shots at 0°C / 32°F

Movie shooting time
Approx. 2 hours at 23°C / 73°F

Approx. 1hr. 40mins. at 0°C / 32°F (With a fully-charged Battery Pack LP-E6)

Dimensions and Weight
Dimensions (W x H x D)
Approx. 144.5 x 105.8 x 78.6mm / 5.7 x 4.2 x 3.1in.
Weight
Approx. 755g / 26.6oz. (CIPA Guidelines)

Approx. 675g / 23.8oz. (Body only)

Operating Environment
Working temperature range
0°C - 40°C / 32°F - 104°F
Working humidity
85% or less
| | |
| --- | --- |
| • | All the specifications above are based on Canon's testing standards. Accessories subject to availability. |
| • | The camera's specifications and physical appearance are subject to change without notice. |
[Canon EOS 60D & 7D]:[1]]]