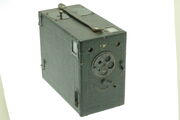 The Butcher's Pilot was a Falling Plate camera of sometimes called a Magazine Camera, this allowed the camera to be preloaded with plates and as the picture was taken a slide switch upon the top dropped the exposed plate out the way.
The Butcher's Pilot took inage on 4 1/4" x 3 1/2" plates, had a fixed focus but with a slide on the lens marked 'Magnifier' which gave close ups of 6 foot and 3 foot by means of a built in close up lens, aperture could be controlled by rotating the disc at the front of the lens to one of the following, 8, 11, 16, 32 and cover (no light just lens cover).
Basic shutter with two settings of I and T and two waist level reflecting brilliant finders.
Marked Butcher's pilot on front above lens and also marked pilot on carry handle
Ad blocker interference detected!
Wikia is a free-to-use site that makes money from advertising. We have a modified experience for viewers using ad blockers

Wikia is not accessible if you've made further modifications. Remove the custom ad blocker rule(s) and the page will load as expected.