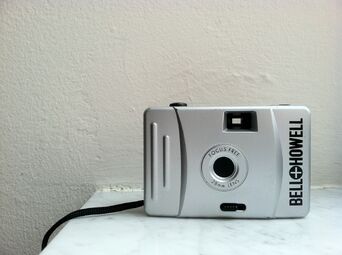 Bell and Howell produced many cameras over the years. It is a company perhaps best known for its movie cameras, rather than 35mm film. Somewhere during their stride they produced a silver manual camera, having no official name; it is usually called Bell Howell 28mm FF (focus free) this camera is known as a tiny camera, loved by teens and adults alike. It is capable of producing grainy, high contrast photos. Even though it is cheap camera, It can still produce High quality, beautiful images.
Ad blocker interference detected!
Wikia is a free-to-use site that makes money from advertising. We have a modified experience for viewers using ad blockers

Wikia is not accessible if you've made further modifications. Remove the custom ad blocker rule(s) and the page will load as expected.