Edith is a series of folding plate cameras made by Beier and produced between c.1925-33. They have basic single extension bellows and with wooden bodies. After about 1930s, the bodies were metal. [1]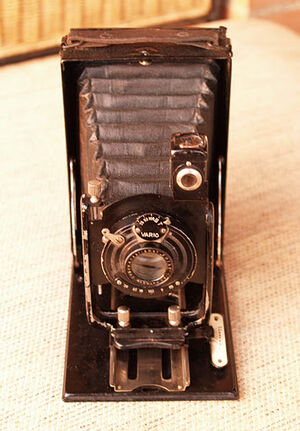 9x12cm plate film
Waist level brilliant finder over lens standard
Spezial-Aplanat 135mm f/8 or Fotar-Arkus-Anastigmat 135mm f/6.3 lenses in
Vario shutter
There are 6.5x9cm, 9x12cm and 3 1/4 x 4 1/4 inch (1/4 plate English format) models

Various lens/shutter combinations
Spezial-Aplanat 135mm f/8, Profundar-Anastigmat, Selar, Sytar, Trinar 135mm f/6.3 lenses in
Vario and Ibsor shutters
Notes and references
Edit
Ad blocker interference detected!
Wikia is a free-to-use site that makes money from advertising. We have a modified experience for viewers using ad blockers

Wikia is not accessible if you've made further modifications. Remove the custom ad blocker rule(s) and the page will load as expected.