Ad blocker interference detected!
Wikia is a free-to-use site that makes money from advertising. We have a modified experience for viewers using ad blockers

Wikia is not accessible if you've made further modifications. Remove the custom ad blocker rule(s) and the page will load as expected.
Beier Box cameras were medium format 120 roll film cameras, made by Beier and produced between 1928-38.
The series have metal bodies. The early models (c.1928) were very similar to the early Balda and Altissa 6x9cm box cameras where the front opens. [1]
Produced between c.1928-38
These cameras were offered in two formats: 6x9cm model and 4.5x6cm model (c.1937)
Basic Beier Box model
Meniscus lens
One speed rotary shutter
Waist level reflex finders
Early models (c.1928) are available in black, grey, green, brown, red and blue colour finishes and nickeled front trim
Later the nickeled trim is diamond shape on the front plate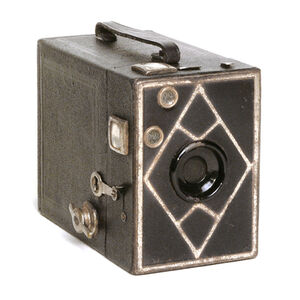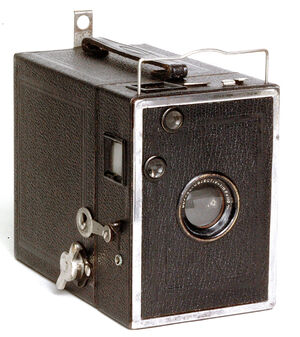 Produced between c.1928-35
Format: 6x9cm
Periskop (Doppel-Objektiv, Doublet lens) f/11
Waist level reflex finders and wire frame sports finder
There were coloured versions
Introduced in c.1937
Dual format version of Box I, 6x9cm and 4.5x6cm
Produced between c.1933-38
These cameras were offered in two formats: 6x9cm model and 4.5x6cm model (c.1937)
Similar to Box 0, but with a doublet lens, built-in close-up lens, wire frame sport finder
Dual format version of Box II, 6x9cm and 4.5x6cm
Notes and references
Edit
↑ McKeown'sp.118-19