Ad blocker interference detected!
Wikia is a free-to-use site that makes money from advertising. We have a modified experience for viewers using ad blockers

Wikia is not accessible if you've made further modifications. Remove the custom ad blocker rule(s) and the page will load as expected.
Beirette vsn is a 35mm film viewfinder camera made by Beier and produced between c.1970-89. It is in the long lasting Beier Beirette series.[1]
Model marks appeared on the Beirette in the "vsn" version only. But there is no marks "vsn" versions also. It is the new model of Beirette series, with light plastic body, black or chrome. There are some cosmetic versions during its manufacturing period.
Specifications
Edit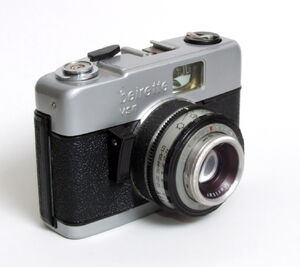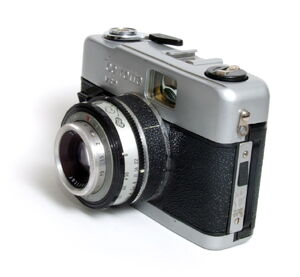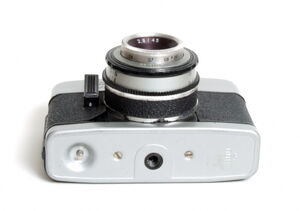 Lens: Meritar 45mm f/2.8 filter slip-on serial no.none

Aperture: up to f/22 setting: ring and scale on the lens-shutter barrel, ring coupled with four weather symbols
Focus range: 0.6-10m +inf

Focusing: manual front cell focusing; ring, scale and DOF scale on front of the lens
Shutter: Priomat everset shutter with three speeds 1/30-1/60-1/125 +B
Shutter release: on front of the camera, not works wo/ film in the camera
Cocking lever: also winds the film, long strong, on the top plate
Frame counter: auto-reset, additive type, small window on the back of the top-plate
Viewfinder: bright frame finder
Re-wind lever: folding crank type, on the right of the top plate
Re-wind release: small knob on the bottom plate
Flash PC socket: none
Hot-shoe
Self-timer: none
Back cover: hinged, opens by a latch on the left of the camera
Engraving on the bottom plate: DDR
Tripod socket: ¼"
Hand strap lug
Body: plastic; Weight: 233g
Serial no. in the camera
Beirette vsn no model marks image by Thiago Kazu  (Image rights)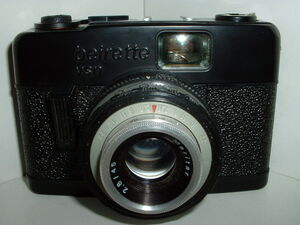 Notes and references
Edit