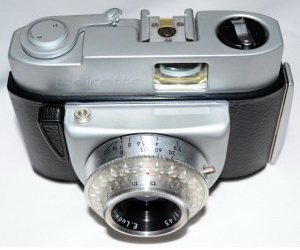 Beirette vs is a 35mm film viewfinder camera made by Beier and introduced in 1968. It is in the long lasting Beier Beirette series.
Model marks appeared on the Beirette in the "vsn" version only.
It is a version of the Beirette "v" with symmetrically rounded lens plate bottom, Ludwig Meritar 45mm f/2.9 lens in Priomat shutter with speeds 1/30-1/125, PC sync on lens, ornamental translucent plastic around lens, still has extra shutter release and metal "guard", hot-shoe. [1]
There are some versions during the manufacturing period:
1974 Ludwig Meritar 45mm/2.8 lens in Priomat shutter, PC sync on lens, translucent plastic around lens, no additional shutter release
1974 black plastic around lens
Notes and references
Edit