Ad blocker interference detected!
Wikia is a free-to-use site that makes money from advertising. We have a modified experience for viewers using ad blockers

Wikia is not accessible if you've made further modifications. Remove the custom ad blocker rule(s) and the page will load as expected.
Beirax is a medium format film folding bed camera made by Beier and introduced in c.1936. [1]
Beirax 1936
Edit
Self erecting bellows
Film 120 roll, picture sizes 6x9cm and 4.5x6cm with a mask
Early models have rounded body and later models (c.1937) have squared body
Optional body shutter release
Lenses: Victar 105mm f/6.3 or f/4.5
The Bentzin Primar folding rollfilm camera, c.1937 has the same squared basic body.
Beirax 1950
Edit
Beirax 1950 is a resumed pre-WW2 version 1936. The differences are the shutter release on the body and folding sport optical finder on the same side of the winding knob. The camera was offered various lens/shutter combinations.
Specifications
Edit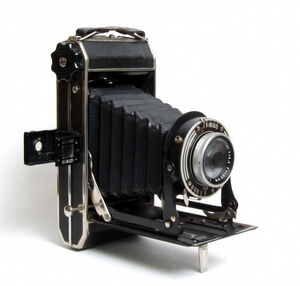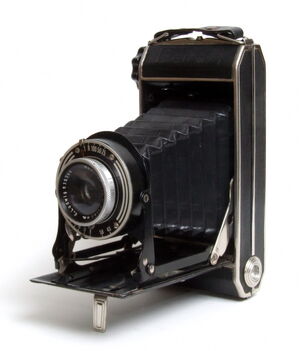 Data belongs to the camera in the photos.
Film: 120 roll, picture size 6x9cm and 4.5x6cm with a mask
Embossing on top of the camera: Beirax
Lens: E.Ludwig Meritar 105mm f/4.5, filter slip-on

Aperture: up to f/32 setting: lever and scale on the lens-shutter barrel
Focus range: 1.5x15m +inf

Focusing: manual front cell focusing, ring and scale on front of the lens
Shutter: leaf everset shutter, three speeds 1/25-1/50-1/100 +T & B

Setting : lever and scale on the lens-shutter barrel

Cocking and Shutter release: by the same knob, on the left side of the camera
Viewfinder: folding frame optical finder, on the left side of the camera
Winding knob: on the left side of the camera
Bellows: single extension, self erecting, opens by a small silver knob on the left side of the camera, closes by pressing the struts
Flash PC socket: none
Back cover: hinged, w/ two red window and built-in lid, opens by a latch on top of the camera
Embossing on the back cover: Beier logo
Tripod socket: 3/8", on the right side of the camera
Hand strap lugs
Camera leg on the front cover
Body: metal; Weight: 545g
Serial no. none
Notes nad references
Edit