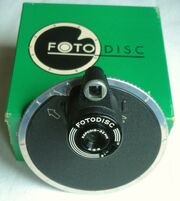 American Safety Razor Co
The fotodisc is a little tiny cast metal camera ,designed to clamp on a much bigger 4 inch fotodisc magazine.
And it could shoot 8 round 1 inch negatives on the disc what was called "fast, fine grain panchromatic safety film .
And it could shoot 8 negatives from 22×24 mm on a special circular film sheet.
It has a small optical finder above the f7/ 32mm Rapodis lens witch aperture could be set on "B" ( bright) or "C" (cloudy) .
The shutter is a simple ever set type with an" instantaneous" speed which should be in the range of 1/60 sec..
Although the Fotodisc has all the ingredients of a "production "camera ,including A.S.R. logos on both the camera and film magazine ,reasonably good finish and styling, and a nicely designed presentation box ,it apparently never had a break trough.
It was announced in July 1950 at a retail price of $ 8.95 for the camera and a $ 1.00 for the film disc.
Some story's say after a few thousand have made ,the production stopped .
But from what is seen on the internet, that could be much less .
Write the text of your article here!
The Fotodisc was made in 1950 and patented. In 1951 Phillip Morris bought the company and moved it from NY to Verona, VA. And the story was said by some of the workers that about 127 of them were made and were given to the workers to try out. They did not like how it worked or the quality of the photos. Phillip Morris put  them on the shelf and left them there until Kodak came out with there version. There was a patent law suit and Phillip Morris won.
Ad blocker interference detected!
Wikia is a free-to-use site that makes money from advertising. We have a modified experience for viewers using ad blockers

Wikia is not accessible if you've made further modifications. Remove the custom ad blocker rule(s) and the page will load as expected.