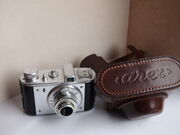 Viewfinder camera for 35 mm film, format 24x28 mm.Lens Hedar Spezial 5,6/43 mm, shutter 1/25,1/50 and 1/100 sec. Handmade by Engineer Johann Schwarzbauer in Vienna from end of 1954 to end of 1955. Sold at trade shows and annual fairs. Lens is threaded but not known if there was any other to change to.
Ad blocker interference detected!
Wikia is a free-to-use site that makes money from advertising. We have a modified experience for viewers using ad blockers

Wikia is not accessible if you've made further modifications. Remove the custom ad blocker rule(s) and the page will load as expected.