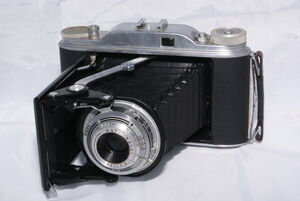 The Ansco Viking 6.3 is a folder 120 roll film camera. It was made to be a pocket camera. A button on the top plate operates the latch that opens the front of the camera like a draw bridge to expose the lens and bellows. The bellows remains in a fixed position and focusing is accomplished on the lens itself. The hinged back made film loading easier. The red window on the back has a lever operated cover that prevents light from reaching the loaded film. Push the lever to watch for the film frame number as the film is advanced. The tripod mounting hole on the camera bottom also serves as a handle type flash mounting hole. It has a cold shoe centered on the top plate. A small handle permanently fixed to one side also covers the button that opens the camera back. There is a fold out tab under the camera's front lid that will support the camera on a flat surface in the portrait position. Another small tab located just inside the front plate folds out to support the camera on a flat surface in the landscape position.
Specifications
Edit
Type: Medium format
Frame size: 6 X 9cm (2-1/4 X 3-3/4in.)
Exposures per 120 roll of film: Eight
Lens: Agfa Agnar 105mm f6.3-f/22
Shutter: Vario in the lens leaf, manual cocking lever on lens
Shutter speeds: B, 1/25, 1/50, 1/200
Shutter release: Button on camera top plate or cable release on side of lens
Focus: Manual, distance scale marked on lens barrel.
Flash: PC terminal located on lens.
Accessories
Edit
Write the first section of your page here.
Section heading
Edit
Write the second section of your page here.
Ad blocker interference detected!
Wikia is a free-to-use site that makes money from advertising. We have a modified experience for viewers using ad blockers

Wikia is not accessible if you've made further modifications. Remove the custom ad blocker rule(s) and the page will load as expected.