Altix IIIA is a 35mm film interchangeable lens viewfinder camera made by Altissa and introduced in c.1949. This model is the first 24x36mm format camera of the Altix series. [1]
See also the article Altix.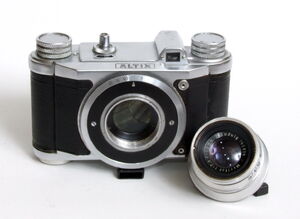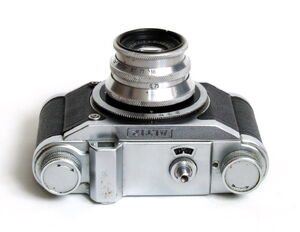 Specifications
Edit
Engraving on the top plate: Altix
Lens: E.Ludwig Meritar V 50mm f/2.9
Mount: screw 29mm, filter slip-on
Lens release: simply turn to counter-clockwise
Aperture: up to f/16, no click stops, setting: by lens front ring and scale
Focus range: 0.75-12m +inf
Focusing: manual helicoid focusing, guess the distance, ring and scale on the lens
Shutter: everset leaf shutter, (name ?); speeds: 1/25, 1/50,1/100 +B; setting: ring and scale behind the lens flange
Cocking and Shutter release: by the same button on the top cover, w/cable release socket, pressing once cocks the shutter and fires, not works without the film in the camera, (double exposure prevention)
Winding knob: on the left of the top plate
Frame counter: additive type, manual reset, window on the top-plate
Viewfinder: reverse telescopic finder
Re-wind knob: on the right of the top plate
Re-wind release: ?
Flash PC socket: two, old type, on the front cover
Cold-shoe: none
Self-timer: none
Film loading: bottom loading, removable take-up spool; hinged film pressure plate, bottom plate opens by a knob on it, A open, Z close
Exposure table on the back cover
Tripod socket: two, 3/8" and 1/4"
Strap lugs: none
Body: metal; Weight: 445g
Serial no. none
Notes and references
Edit
Ad blocker interference detected!
Wikia is a free-to-use site that makes money from advertising. We have a modified experience for viewers using ad blockers

Wikia is not accessible if you've made further modifications. Remove the custom ad blocker rule(s) and the page will load as expected.