Ad blocker interference detected!
Wikia is a free-to-use site that makes money from advertising. We have a modified experience for viewers using ad blockers

Wikia is not accessible if you've made further modifications. Remove the custom ad blocker rule(s) and the page will load as expected.
images by Uwe Kulick
image by John F. Richardson
image by Süleyman Demir
image by Castor
image by K. Medeiros
image by Von Circolo di Confusione Federico Angelucci
images by Andrys Stienstra
Isi-Blitz
Edit
image by Süleyman Demir
image by thelifeandtimesofsam
Agfatronic
Edit
Main article: Agfatronic
Agfamatic pocket Lux
Edit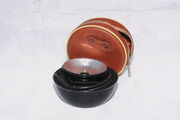 The Agfa KM is a BC (battery/capacitor) type bulb flash with a two-piece reflector that is disassembled via a bayonet type mounting system. The bulb head also slides toward the flash bottom to make it even smaller. This is done to accommodate the compact circular zippered case.
Flash bulb: XM1
Battery: (old style-Daimon 16122, 22.5v) replacement-ATLANTIC 6F22.9v, 22.9v easily obtained online.
Capacitor: (0ld style-V'&S ELECTROLYT 100MF 25/30v ) replacement-Radio Shack 272-1016, 100uf electrolytic capacitor, 35wvdc. Note: old capacitor leads are rigid tubular and replacement capacitor leads are wire so soldering or other ingenious method will be needed to use the new cap.
Compatible cameras: Agfa Silette (original)