Agfa Standard is a folding camera. They were made in the years 1926 to 1931 in several different designs.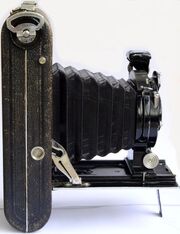 model 204 - the cassette frame size

 

6x9cm
model 208 - tthe cassette frame size

 

9x12cm

model 254 - roll type film 120

model 258 - roll type film 116
Specification of model 254
Film Type - roll type 120

Dimension of the frame - 6x9cm

Lens - Trilinear Agfa Anastigmat F: 4.5 / 10.5 cm

Leaf shutter Gauthier, settings

 

1/2s , 1/5, 1/25, 1/50, 1/100, T, B.
Aperture Adjustable

 

- 4.5 to 32
The cameras have a variety of lenses, including Double-anastigmant Helostar. The cameras were also available with a Compur shutter. More in links.
Ad blocker interference detected!
Wikia is a free-to-use site that makes money from advertising. We have a modified experience for viewers using ad blockers

Wikia is not accessible if you've made further modifications. Remove the custom ad blocker rule(s) and the page will load as expected.