Silette SL is a 35mm film viewfinder camera made by Agfa and introduced in 1957. It belongs to the long lasting Silette series.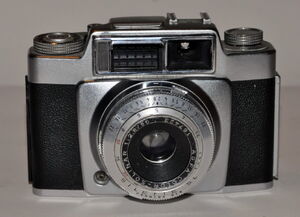 The camera was advertised by Agfa as first 35mm camera with coupled meter. The match-needle readout is on top plate. The body is a mixture between original Silette type 1 (1953) and type 3 (1958) with rapid winding lever on the top plate. Lens is Color-Solinar and the shutter is Prontor-SLK. [1]
The Selenium cell coupled exposure meter is semi-automatic; Adjust the settings for aperture or speed on the lens then transfer them directly to the meter and you could identify the correct exposure.
Notes and references
Edit
Ad blocker interference detected!
Wikia is a free-to-use site that makes money from advertising. We have a modified experience for viewers using ad blockers

Wikia is not accessible if you've made further modifications. Remove the custom ad blocker rule(s) and the page will load as expected.