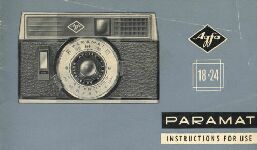 Paramat is a half frame 35mm film viewfinder camera made by Agfa and introduced in 1963.
The camera like the Agfa Parat-I but with fixed shutter speed 1/125 and automatic aperture control by pressing the shutter release in a half way, then a red or green signal appeared at the top-plate or left in the viewfinder for underexposure or sufficient light available. Film speeds is a range from ISO 10/11 to ISO 250/25. In flash mode the shutter works with 1/30. [1]
Other half-frame Parat series cameras are Agfa Parat & Parat-I and Agfa Optima Parat.
Notes and references
Edit
On www.collection-appareils.fr
Ad blocker interference detected!
Wikia is a free-to-use site that makes money from advertising. We have a modified experience for viewers using ad blockers

Wikia is not accessible if you've made further modifications. Remove the custom ad blocker rule(s) and the page will load as expected.