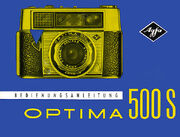 Optima 500 S is a 35mm film rangefinder camera made by Agfa and introduced in 1963.
The camera is similar to Optima III S but with some cosmetic changes and a new lens, Agfa Color-Solinar 45mm f/2.8 in Compur shutter with self-timer.[1]
Also see the list of Agfa Optima cameras.
Notes and references
Edit